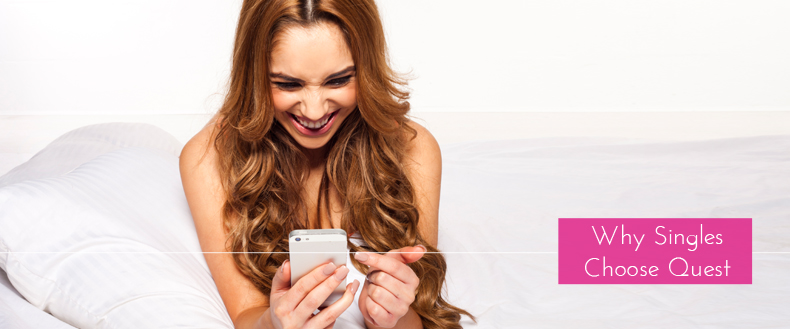 With so many dating app and chat line options out there, you might be wondering why real, local singles choose QuestChat over other products. That's totally okay, and we love that you're doing a little research on us. We've got nothing to hide, so keep reading for the top 4 reasons real singles choose QuestChat.
1. Everyone on the line is a REAL person
Authenticity is SO important to us at QuestChat. We don't believe in using paid operators to trick customers into spending longer on our lines. We work diligently to ensure every man and woman on the QuestChat phone line is a real person looking for real conversation. No matter what day or time, you can rest assured that you're connecting with someone just like you.
2. QuestChat gives you total control
Don't feel like talking to someone? No problem – just hit "skip" or "block"! With QuestChat, you always have total control over who you connect with. You'll never have to worry about being forced into an awkward conversation and can spend your time talking with who you want – for however long you want. You always have the opportunity to end any conversation with the touch of a button. If only real life were that easy!

3. We're LOCAL
When you call in on your toll-free local number, you're automatically matched with people calling from the same area – so you know you're meeting local, nearby singles and not speaking with someone halfway across the world! If you feel like exploring who else is out there, we'll definitely let you do that – but we're proud to have the ability to match you on a local level first.
4. We're affordable
We believe in getting the most out of your money, and that's why QuestChat keeps its pricing competitive and reasonable. Plus, it's incredibly easy to renew your package with QuestChat's auto renew – so you never have to worry about running out of minutes in the middle of an amazing conversation.
You asked and we answered. Real, local singles choose QuestChat because we're the leader in connecting local singles for great conversation. Why not try it yourself? Call today and see who's on the line – first time callers even get 60 minutes for free!
Have you ever tried QuestChat before? Share your experience in a comment!