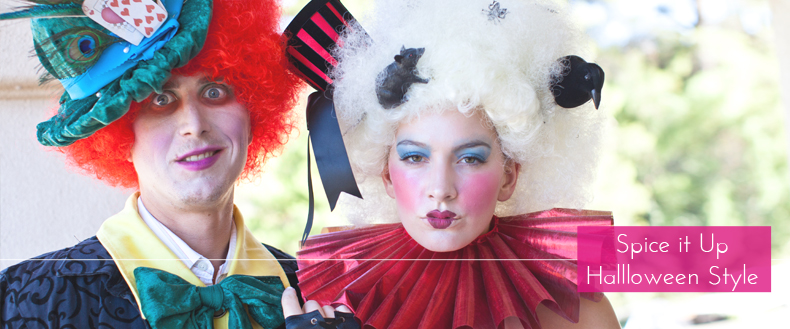 How Spooks Are The New Sparks
When Halloween comes to mind, it usually doesn't foster romantic feelings or concepts. Couples shouldn't be so close-minded though! Halloween is one of the best holidays to keep the sparks alive in a relationship. There are endless ideas on how to keep things fun in your relationship with the Halloween tradition.
Scare The Children
Here's a typical way on how to keep things fun in your relationship on Halloween: scare the children! Work with your significant other on ways to give real spooks to the young trick or treaters!
Turn your house into an evil madman's laboratory and make it as gruesome as possible or decorate your house with the scariest Halloween props available. One way to really bring the spooks to the next level? Invest in creepy Halloween music and get into character.
If you want to the play the mad scientist, let your partner be the "experiment" and
Go On An Adult Trick Or Treat
This won't involve your usual candy bag! We're talking about a scavenger hunt trick or treat! Surprise your significant other when they come home from work and give them a map of your place. Mark down spots where you hide things such as toys or a sultry picture of you in your costume. Lead your significant other into a comfortable place, where you're ready for the "tricks" and they'll be loving the "treat" you've laid out for them!
Although this takes a bit more planning and cunning skills, this is how to keep things fun in the relationship on a more physical level.
Come Up With A Creative and Fun Couple Halloween
Remember those times you and your parents spent making the perfect Halloween costume? Put those costume making skills to good use and come up with a great couples Halloween costume! It's one of the easiest ways to keep things fun in your relationship without putting too much pressure on the relationship.
Some couples Halloween costume ideas include:
–      Romeo and Juliet
–      Barbie and Ken
–      Dr. Who and one of his many companions
–      Archie and Betty (or Veronica! Or Betty and Veronica!)
–      Tom and Jerry
–      Bert and Ernie
–      Pikachu and Ash
The possibilities are endless! As a couple, you can decide whether you want to make a sexier version of these costumes or preserve them in their original states.
Host A Halloween Bash Together
Why just celebrate Halloween alone? Bring your friends in on the fun you two have planned for Halloween! By hosting a Halloween party together, you'll be showing your friends how to keep things fun in a relationship without too much pressure!
Invite everyone to dress up and provide Halloween-themed food and drinks!