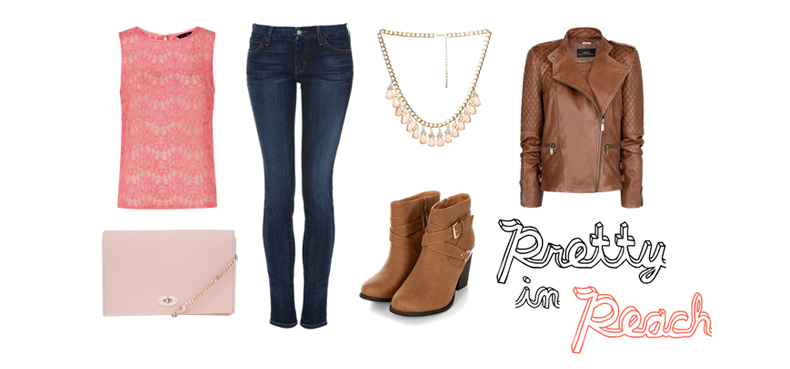 Congrats on landing a hot date! You're excited, he's excited and.. .you have no idea what to wear. You might be surprised to learn that the "date night outfit" is what causes the most amount of anxiety in women leading up to a date – especially with someone new. Fear not, wonderful woman, your friends at QuestChat have you covered with a first date outfit tutorial using the clothes you already own, no less!
For all our male readers, we'll be covering the same topic for you in a separate post. Keep your eyes peeled for it coming later in the month right here on the QuestChat blog.
Now, looking at the above picture you might think, "I don't have any of those clothes!" We don't either. But that's OK, because chances are you have something mighty similar somewhere in your wardrobe – all it takes is a little looking around with fresh eyes. Keep reading and before you know it, you'll have a brand new outfit built entirely with pieces you already own.
1. Your Favourite Pair of Jeans
In order to have a great time, you need to be comfortable. While we do recommend nixing the sweatpants for a night out with a potential suitor, we don't see anything wrong with wearing your fave pair of jeans. They're a little worn in, fit you perfectly and show off your curves. Comfort can be sexy! Plus, who knows what your date has planned for the evening – you wouldn't want to end up hiking in a dress and six inch stilettos!
2. A Feminine Top That's Not "Too Much"
There's a fine line between "feminine" and "frilly" in the minds of guys. So, opt for a feminine top that doesn't take it too over-the-top. A little sparkle or lace is fine, but try to avoid anything that screams 80s prom. Also, we'd recommend keeping the cut slightly conservative. You want to keep him guessing… and keep him wanting more! If you're showing off your shoulders, consider a slightly higher neckline. Showing lots of cleavage? Don't go for an open-back, too.
3. A Fitted Leather Jacket (or Blazer)
Add some structure to your outfit by grabbing a fitted leather jacket – or blazer if you don't have a leather jacket. You'll keep warm when the temperature drops, plus you'll add a level of interest to your outfit by contrasting the feminine top just a little. Your new beau won't know what hit him!
Note: If you opt for a blazer, go with something slightly more casual and leave your business jacket for the office!
4. Booties. The Universal Saviour Shoe.
Booties go with pretty much anything! Go with something with a low to mid heel to stay comfortable and up-for-anything. Know you'll be dining somewhere slightly swankier? Use your judgement. You know what you can and can't walk in, so go with something you feel comfortable in and sexy.
5. One Statement Piece of Jewelry
One of the biggest mistakes a woman can make with jewelry is overdoing it. Each piece should shine, shine, shine – and never compete with everything else you've got on. We recommend going for a single statement piece, like a stylish necklace. It will catch his attention, draw his eyes to your collarbones and face but won't jingle-jangle all over the place while you stroll hand-in-hand.
6. Shoulder Bag
When he reaches out to grab your hand, you sure don't want him grabbing a handful of clutch! Go for a shoulder bag to keep your hands free and to avoid the panic that ensues when you're not 100% sure where you last put your wallet. Clutches are way too hard to keep track of when you're having a great time with someone new!
What's your go-to first date outfit? Let us know in a comment!
Image Created on Polyvore.com