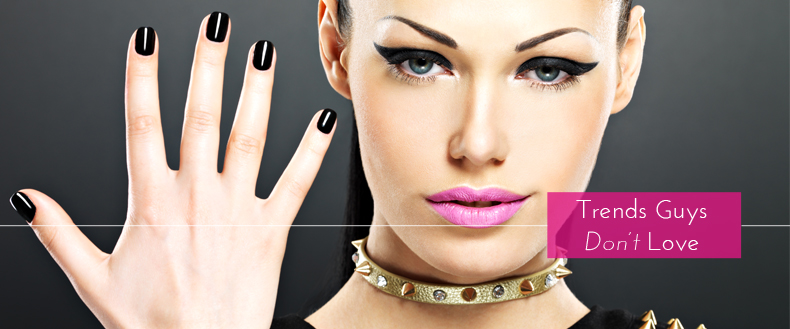 No matter what you wear your guy is bound to think you look beautiful (he better!), but there are some trends that women love that he just can't seem to get behind. So, before you go reaching for more maroon lipstick on date night, check out these non-man friendly fashion trends and get tips on why dudes will never get your style.
High-Waisted "Mom" Jeans/Shorts
Ladies love the 90s look of high-waisted jeans and denim shorts, but guys? Not so much. Most men find this fashion trend totally unflattering (especially when it comes to the butt), and they can't figure out why anyone would be trying to replicate a style made popular by moms 20 years ago.
Fake Nails
But Rihanna makes them look so damn cool! Whether you get them squared off or pointy, solid colour painted or designed like crazy, one thing is for sure: dudes don't dig 'em. Painted nails look pretty, but fake nails remind him of claws and can sometimes signal a high maintenance kind of gal – neither of which are good for your game.
Overalls
Mechanics. Plumbers. Children. 'Nough said.
Stacked Bangles
You know the sound all those bracelets make as you move? So does he, and it will forever be irritating. Stacking bracelets has been a popular fashion trend for years, but if you want to keep him from going crazy at dinner, it's probably best to keep the bangle count to a minimum.
Deep Berry Lipsticks
Runways and celebrities have made the deep berry lipstick colour a makeup kit must-have for the past few seasons. Ask a guy what he thinks about maroon lips and you'll get two types of responses: "When I kiss her it's going to get ALL over me. Ugh!" OR "It makes her sort of look like a witch." Unless goth chic is what you're going for, it's best to skip this lip trend on first date night.
"Blousey" Tops
Every woman's wardrobe savior – the flowy, free falling blouse! We love how non-restricting these tops are (and how they truly go with almost anything), but men aren't as in love. Most men are of the belief that tight is the BEST option, and no matter how bloated you're feeling that day, they're sticking to it.