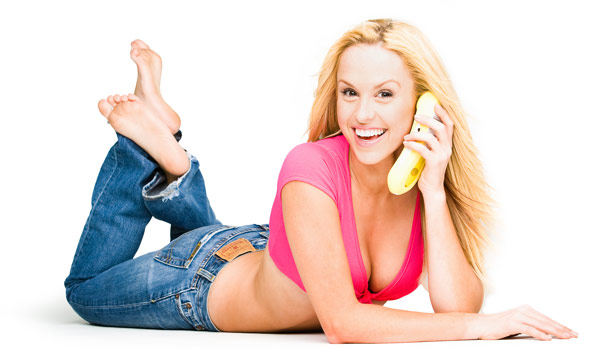 One of the biggest mistakes a person can make before entering a phone chat with another person is that they come unprepared. That's why we've come up with our best tips to get you through a phone chat unscathed and happy! Check 'em out below.
Tip #1: Have a list of talking points
You can never be too prepared with your talking points. Conversation should flow naturally if you establish a connection with your phone chat partner, but sometimes, just having a list of talking points in front of you can help take the pressure off trying too hard to maintain the conversation flow.
Tip #2: Make sure you're somewhere comfortable
Go for your comfort zone. The bed, sitting at the dining table, or the couch. Being in your comfort zone ensures that you'll be in a relaxed position for a phone chat conversation. Body posture can help make or break your conversation.
Tip #3: Ensure that you have a good connection and proper phone chat gear
Nothing's a phone chat killer like a bad phone connection. Before you go off into the phone chat world, make sure that you have a good and reliable phone line. It won't hurt to invest in headphones either. If the conversation goes well and you end up talking for a long time, your hands will thank you for the hands-free approach.
Tip #4: Practice beforehand
Practice some conversation beforehand. It'll help get those nerves out of the way before you engage in a real conversation.
Tip #5: Don't be too forward with your questions, talking points, etc.
Learn where the line is! There's no bigger turn off during a phone chat than when someone goes too far with their questions or talking points. This is especially important if you're talking to someone via phone chat for the first time. Keep the conversation casual; the first phone chats are all about establishing trust.
Tip #6: Remember that it takes a while to get used to a phone chat conversation 
If you find yourself wrecked with nerves during a phone chat, don't worry! That's completely normal and once you've done it a couple times, it's easy to get the hang of it.
Tip #7: Hang up when you're uncomfortable
Phone chats are great in the sense if that someone is making you uncomfortable, you don't have to give them an explanation as to why you want to leave. Just simply hang up and move on.
Tip #8: Don't give out personal information
Some people can get too trusting over phone chat lines, but not all people on phone chats are trustworthy. Never give out information such as your address, your personal number, or any credit card information.  If any questions relating to these pop up during a phone chat conversation, that should raise a red flag.
Tip #9: Know when the conversation isn't going well
You won't click with everyone you speak with. Phone chats can help eliminate the people you don't establish a great connection with. However, knowing when the conversation isn't going as smoothly is a great trait to pick up on. Simply let the other person know that you appreciate their time, but you're just not feeling it!
Tip #10: Relax and have fun!
Being on a phone chat will become more relaxing and fun the more you do it! The more you relax, the more fun it'll be speaking with potential partners!