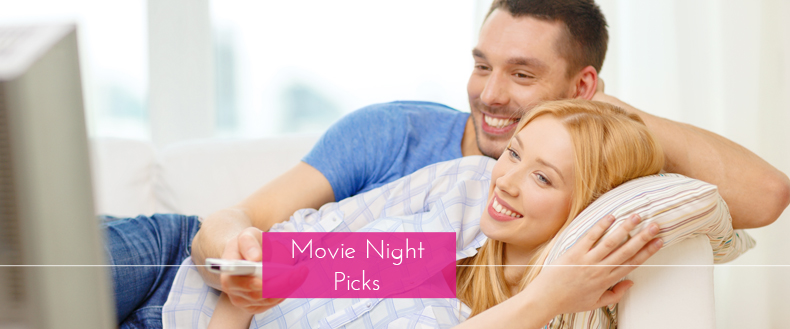 Whether you're going on a date for the first time or you've been with your partner for years, there's no easier activity to enjoy than a movie night! Choosing the perfect flick that will satisfy both of you? Not so simple. This list of movies for him and her should help provide some silver screen inspiration when you need it most (and no, they're not all chick flicks).
Neighbours
Ladies get some eye candy in the form of Zac Efron's abs, and you both get to belt out some serious laughter thanks to the comedic timing of Seth Rogen and crew. Still in theatres, this well-reviewed comedy follows a young couple battling their crazy neighbours (who have moved their fraternity into the house next door).
Edge of Tomorrow
Not your average action flick, Edge of Tomorrow is a smart and fast-paced story that involves a future war, Tom Cruise, and everyone's favourite actress of the moment, Emily Blunt. Don't let anyone spoil this one for you (it's not what you think based on those trailers) – it's a total ride and a ton of fun!
Drinking Buddies
Feel like staying in? Cozy up with your date and turn on this funny and totally hip indie, starring Olivia Wilde, Anna Kendrick and Nick from New Girl. Taking a closer look at guy-girl friendships, this movie will definitely get you thinking about your own relationships with the opposite sex. PLUS, it's got a killer soundtrack.
Dawn of the Planet of the Apes
One of the best reviewed movies of 2014, this sequel to Planet of the Apes is apparently out of this world good! Action, drama, monkeys, our homegirl from Felicity – WHAT MORE DO YOU NEED?
Stoker
A smart horror movie that still offers plenty of chills, Stoker is a great rental for the nights you want to hang at home and pop your own corn. Hold onto one another when things start getting creepy for some serious cuddling on the couch!
22 Jump Street
If you loved 21 Jump Street (and honestly, who didn't?) you're both sure to enjoy this hilarious sequel. Jonah Hill and Channing Tatum are back for more undercover craziness and badass action sequences. Based on how well this one has already done at the theatre, you can pretty much expect a 23 Jump Street to show up in the near future.