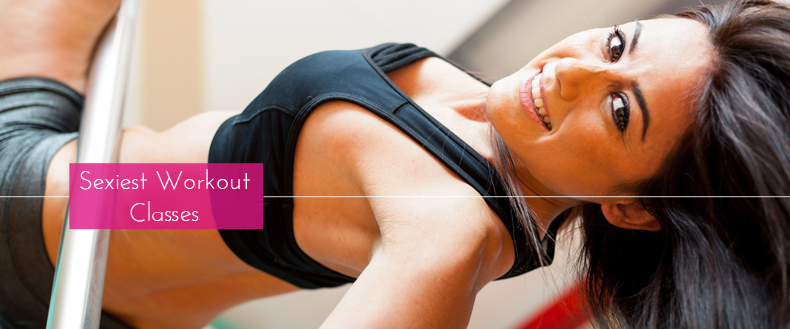 As women we love occasionally hitting the gym, but most of us aren't into the type of hardcore strength training that guys are. Luckily, many female-focused workout shops have come up with some sexy alternatives for us ladies to get our work out on. Check out some of these fun classes for sexy workouts at one of your local studios.
Pole Dancing
No we are not suggesting you hit up the strip clubs, but pole dancing has actually become a widely accepted and appreciated exercise form in girl world. Not only do you get to feel confident and sexy, but it strengthens your arms, legs and core for an overall great tone.
Strip
Okay, so this one is a little borderline raunchy- but it is oh so much fun! Typically the instructor will teach you a basic routine and ask you to bring a dress shirt to go over your workout clothes to practice. Try it just for fun or bring it home to try out for real on that special someone- we're sure he won't complain.
Chair
Another routine-based class that is usually a little on the sexy side, but always a great work out. This one is especially fun to do with a girlfriend so you two can laugh the nerves away and enjoy the surprisingly intense workout.
Burlesque
Looking for something a little more challenging? Burlesque is a more complex dance oriented class that will teach you the technique behind your sexy moves. Check it out if you are interested in some serious choreography.
Aerial Yoga
Okay so this one isn't really X-rated, although if you have ever seen a guy passing by an aerial yoga class, the look on his face might say otherwise. This emerging style of yoga features cloth pieces hung from the ceiling, which you use to navigate popular yoga poses with a twist. It is a great style for people who want to try something new and work on flexibility with less stress on the limbs. The ropes provide a lot of support so you can push your body to new limits- and it looks pretty cool too!