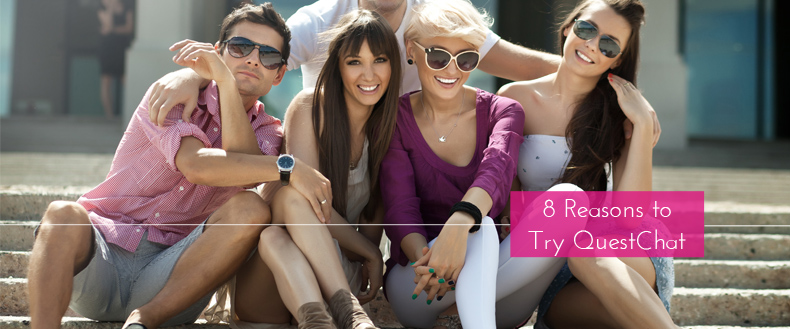 We're human. We love connecting with other people. In fact, we have a fundamental need to connect to other people. So, why fight our nature? Connect with local singles now with Quest's free phone chat trial. We know you're gonna love it!
Now, we get that everyone's really into apps and a lot of people have even (gasp) forgotten how to talk on the phone, but it seriously works. We're so confident, in fact, that we're giving away 60 minute free trials to all first time callers. It's our way of saying, "we told you so!"… but much more politely.
Still not convinced? No problem. Keep reading for our 8 Reasons to Try QuestChat's Free Phone Chat – Today!
1. It's Free to Try. Free.
When something's free and has no strings attached, why on Earth would you say no?! We give all first time callers a complimentary 60 minute free trial – so grab your cell and dial in now. Just grab your local calling number from the upper right hand corner of this screen and you're half way there.
2. You Have Total Control
Our current customers love Quest's phone chat because they have total control over their chat experience. You can easily skip, block or connect with anyone. When you skip someone, they'll never know so you can continue with your chat experience and have a blast.
3. You Can Call in From Anywhere
QuestChat has lots of local access numbers, plus you can access the chat network through our mobile app! So, you can access QuestChat from virtually anywhere and meet lots of awesome singles on-the-go. QuestChat is great for at-home or while traveling.
4. There are No Paid Operators
QuestChat is all real people, all the time. There have never been, and never will be, paid operators on the line. So you can rest assured that you're chatting with a real single just like you! And don't worry, there are always lots of people on the line – so you'll never be bored.
5. The Live Chat Room is a Blast!
QuestChat's Live Chat Room is where all the action takes place. Explore voice greetings of other singles currently on the line, exchange messages or connect live for awesome conversation. The choice is yours! There's a different crowd every time you call in , and it's always busy and fun. Try calling at different times throughout the day to really get a feel for who uses Quest.
6. QuestChat is 24/7
Do you work late nights and want to chat during the day? No problem! QuestChat is 24/7 and always has people on the line. Whether you call in late at night or early in the morning, QuestChat's here to hook you up.
7. Packages are Affordable and Competitive
QuestChat offers free phone chat trials, but we also offer affordable and competitive minutes packages for paying members. After your 60 minute free trial, you'll be able to take advantage of a special 50% offer with your first credit card purchase.
8. We've Been Going Strong Since 1987
QuestChat has been offering the best in phone chat since 1987, so you know you can trust us. We've learned a thing or two over the years and continue to improve our products to be the best that they can be for you – our valued customer.
Give QuestChat a try right now! Call the number in the upper right hand corner of your screen to connect with tons of local singles. Have fun and be sure to let us know what you think!