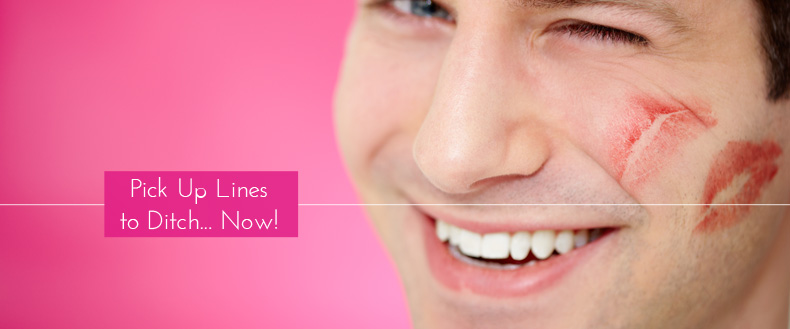 Oh, the pick up line. What girl hasn't heard one? I think it's safe to assume that most people (read: successful daters) know better than to use a cheesy pick up line at the start of a conversation, but just in case you're thinking of breaking one out here's a list of some of the absolute worst. Do yourself a favour and don't use them. Ever.
Did it hurt…when you fell from heaven?
The most overused of all cheesy pick up lines, this one is just terrible. You'll woo her by being yourself and starting a conversation organically. Trust us.
Those legs must be tired 'cause you've been running through my mind all day!
Her thoughts on this are simple: "How could I be running through your mind all day when you only noticed me at this bar five minutes ago?" Bad start.
Excuse me but I think you have something in your eye. Nope, it's just a sparkle.
If you want to start a chat with someone by commenting on his or her eyes, it's better to go with something that sounds a little more natural. Work in: "Wow, you've got gorgeous eyes." But make sure it's after you've actually looked into them.
I lost my number, could I have yours?
When you want to grab someone's number at the bar it's best that you wait for the right moment. It's usually good to go for the number move after you've had a real conversation, and after you've sensed that she (or he) would be willing to talk again. Starting the convo off with something super lame is NOT the way to get a second date.
The only thing your eyes haven't told me is your name.
As far as cheesy pick up lines go, this one isn't THAT bad. But it still shouldn't be your go-to – want to get her name? Why not cut the lines and just ask her?
Do you believe in love at first sight or should I walk by again?
Obviously this line could come off funny, but for a lot of ladies it will end up making you sound arrogant. She's not looking for somebody to tell her what she wants, she's into the dude that's going to show her. Be cool and be you.
Are you a parking ticket? 'Cause you have fine written all over you.
Never. Stop. It's awful.
You're so beautiful that you made me forget my pick up line!
It wouldn't be so bad if you stopped at "you're so beautiful", but even then you sound like a total cheese-ball. Go up and introduce yourself, and after you've talked for a few minutes then you can tell her that you think she's totally gorgeous. She'll dig that because it comes off more believable.