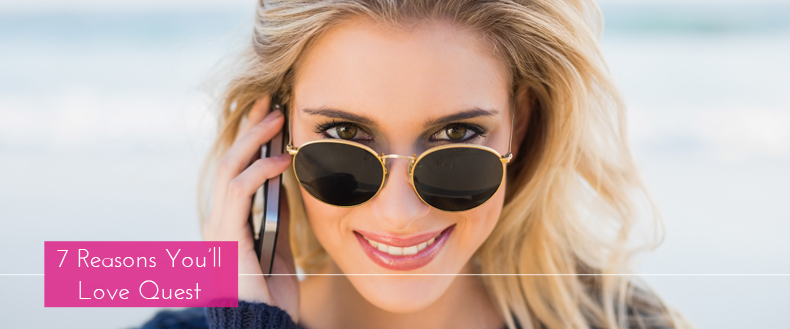 We know, we know. Not everyone really understand what QuestChat is. Do you speak with a phone operator? Do you speak with other real, local singles? These questions are completely normal and very, very common. That's why we're breaking down the barriers between what you might think QuestChat is and what it actually is in our 7 Reasons Why You'll Love Chatting Live on QuestChat post.
Reason #1 – QuestChat has zero phone operators. It's all real people.
QuestChat is all about skipping the club and bringing the party straight to you – with other real, local singles. There are no phone operators or paid chatters on the line. Ever. It's always a bunch of fun, local people looking to chat live and make awesome connections. Sounds like a pretty good time, right? It is!
Reason #2 – It's busy all day, every day.
QuestChat isn't just a late night chat line, although evening is definitely the most popular time to call! We're busy all day long – from morning to noon tonight. Plus, it's a different crowd of people at different times of the day. We recommend checking out who's on the line before work, at lunch, after dinner and late at night – it's always a fun time and you're sure to meet someone new.
Reason #3 – You can be anonymous
With online dating, it's hard to maintain anonymity. Your coworker might come across your dating profile, your friends might pressure you to message people you don't want to and you could be worried about your image showing all day, every day to tons of people. With QuestChat, there's absolutely no need to worry about any of that. You keep your anonymity by calling in for voice chat – no photos, first or last names required. Whatever information you do choose to share is up to you and that exchange is always within your complete control.
Reason #4 – It's been around for a while and knows what it's doing!
QuestChat has been the leading name in phone chat for over 20 years. So, you can safely assume that we know a little bit about what we're doing over here! We're committed to offering a fun, safe and exciting chat experience 24/7.
Reason #5 – You connect with local people first
When you call, we'll match you to other local singles first. So, you can explore who's nearby in your local area before expanding your search to a little further away. It's a great way to chat and meet new people while on vacation, traveling for business or while chilling at home – it's your call!
Reason #6 – People really connect on QuestChat
You might be surprised to learn that lots of couples, marriages and families begin on QuestChat. We regularly receive phone calls and emails from happily married couples thanking QuestChat for helping them meet each other. We've led to plenty of dates, relationships, marriages and families being started!
Reason #7 – Because there are no strings attached
There are no strings attached with QuestChat. You try it for free, no credit cards required. If you do decide to buy, our minutes packages are some of the most competitive in the industry and we're always offering amazing deals to give you more for less.
Try QuestChat now. It's time to make your connection!