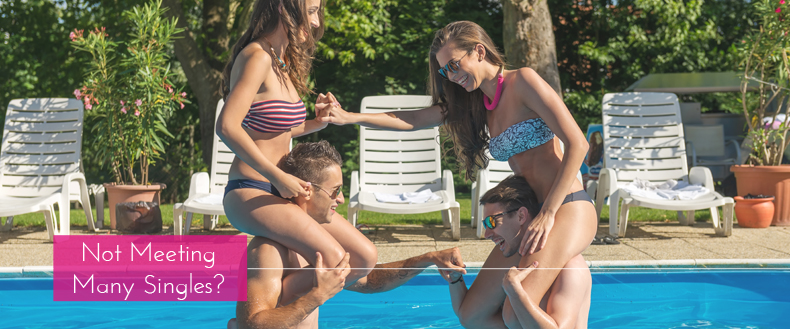 Been on a bunch of dates, but you're still solo? What you really need is to meet more local singles. Easier said than done, until now! Check out our tips on why you're having trouble meeting more people and how you can switch up the strategy.
1. Hitting the Wrong Places
If you really want to meet more local singles you've got to stay on top of where these people dine, drink and hang! Dinner at a restaurant for families or drinks in a bar that caters to old regulars isn't gonna do the job. Get on the web and seek out places that are known for being mostly populated with singles (or search for bars that cater to a specific crowd that you're most interested in meeting).
2. Afraid of Online Dating
GET ONLINE! Seriously, if you want to find local singles looking for love there is no better place than through a dating site. You can filter by location, interests, and expectations and then start connecting with people in your area right away. Could it be any easier?
3. No More of the Same Scene
You'll never meet more local singles if you keep checking out the same locations over and over again. If you've gone to a bar more than twice and never met anyone there, it's time to switch up the scene. Forget the bars – check out a book club, a volunteer group, or even a singles club!
4. Hanging out with Couples
We've all got friends in relationships and hanging out with them is awesome, but if you're looking to meet new singles it's pretty unlikely that you'll make it happen hanging with married people. Keep prime weekend nights open for meet-up possibilities and tell those couples you love that you've got to take a raincheck. They'll understand.
 5. Relying on Set-ups
Meeting someone through friends can be great (you can trust that the person isn't a total psycho), but if you think that's going to be the best way to meet singles you're wrong. Don't just rely on set-ups for dates; get yourself out there and on the market!
6. Are you REALLY Available?
You might be having trouble meeting singles because you're not actually putting out the vibe that you're available. Maybe you're still hung up on an old love? Or perhaps you're not ready to get into the dating pool just yet? Do a little soul searching for the answers!