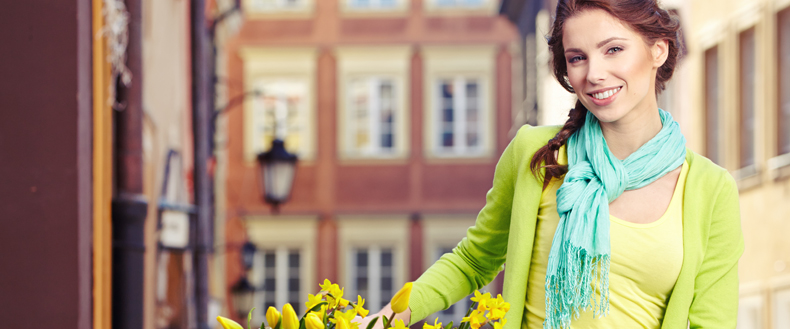 Orange You Glad It's Spring?
Usually spring colours include shades of green and perhaps a little yellow thrown in. Stand out from the crowd by infusing the colour orange into your wardrobe style! This fruity colour will certainly make you stand out from the crowd. Experiment with different shades of orange to find the perfect hue for your skin tone!
Light Scarves
Scarves aren't just for winter! Spring scarves are always in style. With their light texture and many colourful patterns, pair a patterned spring scarf with the basics: white t-shirt, jeans and sneakers. These scarves vamp up any outfit in a second and they're versatile too! If you're tired from wearing scarves all winter, try wrapping them around your head or around your purse for a fresh new look on your spring style!
Dangly Earrings
With the weather warming up a bit, most of us will be investing in updos and perhaps shorter hair! Take advantage of this and put your ears front and center with hoop or chandelier earrings! Simple silver hoops or chandelier earrings that hit just above your shoulder are dainty enough to draw attention to your pretty face! Also, just like the versatile spring scarf, big earrings are a great way to upgrade a basic outfit without breaking the bank!
Be wary of these types of earrings when your hair is down! Your strands could get tangled in them, so it's always best to pair these earrings when your hair is up or shorter!
Break Out The Rain Boots and Coats!
Springtime is known for its showers and you should stay prepared! However, who says you shouldn't be prepared in style? Invest in a waterproof raincoat that keeps you dry and safe from the extra moisture and don't forget those cute rain boots! What used to come in drab boring colours now comes in an array of patterns and colours! Our pick for a rain boot pattern? Polka-dots! There's something about them that just brings positivity on an otherwise rainy day!
Cardigans
Cardigans are great all year around and that's why we keep them in the spring time! Spring weather can still be temperamental; chilly in the evening and hot in the day. With a cardigan, it's a layer that's much needed in this kind of weather! Luckily, they're light enough so that you won't be sweating buckets through the day, but they're great for keeping you warm during the chilly nights! Stick with a looser, boyfriend-style cardigan and it'll look carefree and young, just like spring!