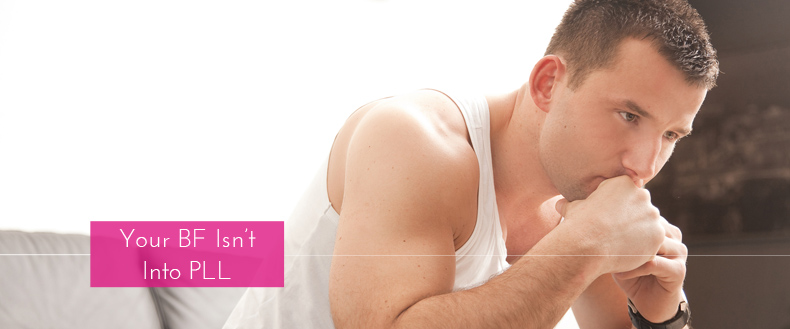 Finding yourself arguing over who gets the remote tonight? Chances are you and your man are beefing over what to watch because he can't take another night of TLC, Slice, or Lifetime's riveting TV lineup. It's your right to watch what you want, but when you're spending time together it makes sense to compromise and check out a program that you both will enjoy. There are a handful of shows that your boyfriend does not want to watch, and while you can probably figure them out on your own, this simple list will help make it super clear.
 1. Real Housewives of Anywhere
Between the yelling, the drinking, and the gossiping, it's no shocker that this series of shows kill his spirit. Of course you need to find out what's the latest with the ladies, but best to record it and watch at a later time. Alone.
 2. Say Yes to the Dress
Watching chicks try on wedding dresses is something that all gals can get into (it's pretty much our TV crack), but do you really think your guy is interested in whether Tiffany will pick the mermaid over the ball gown? Exactly.
 3. The Bachelor/Bachelorette
It's not that hard to get your boyfriend to watch a few minutes of this ABC phenomenon, but making him sit through a two-hour episode is definitely a recipe for the most dramatic argument over TV ever. Save those "final rose" viewings for a night with your girlfriends instead!
 4. GIRLS
Shoshanna. 'Nuff said.
 5. Sister Wives
Another TLC offender on the list of shows that your boyfriend does not want to watch! This one offers what most reality TV is known for – DRAMA. A wife is always crying or complaining about something, and that usually makes up the full hour of the episode. Just spare him, you don't even like this one that much anyway!
 So, what shows can you both get into? There's so much great stuff on lately that it really is a lot easier than you might think! You can't go wrong with House of Cards, True Detective, a sports game that you're both invested in, South Park or a binge watch of The Wire – the list is pretty much endless.