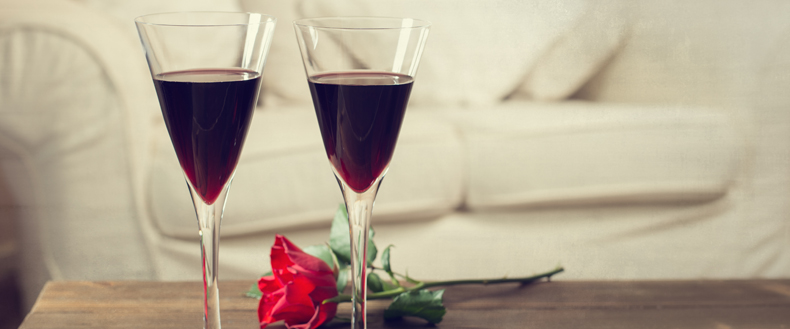 1) The Raspberry Chocolate Kiss Cocktail
Who can resist a kiss from you after you've sweetened your lips with this delicious raspberry chocolate kiss cocktail? With raspberries and crushed chocolate cookies being the centre of attention for this drink, its decadency is married with the classic mix of vodka and cranberry juice.
The lined rim of the martini glass is decorated with crushed chocolate wafers and while it may sound more like a cake than a cocktail, it's one of the must try cocktails for this coming Valentine's Day!
2) The Pomegranate Champagne Punch
If you're in a bit of a pickle over what alcoholic beverage to serve your Valentine's Day sweetie, try this simple concoction. Nothing beats the invitation of bubbly champagne and when you mix it with the not too sweet and not too bitter taste of pomegranate juice, you've got a match made in Valentine's Day heaven! There's no way you'll miss out on the intimacy when sipping this cocktail made of pear nectar, pomegranate juice, orange liqueur, and champagne.
3) The Besame Cocktail aka The Kiss Me Cocktail
The title of the drink says it all. The Besame cocktail has the ultra-smooth kick that puts other cocktails to shame. The key to this drink is using the right tequila, Agavero, which is straight out of Mexico. According to Mexican history, the Damiana flower's essence which is infused into this particular tequila, is known for its aphrodisiac properties.
Sign us up for a drink because that's got love splashed all over it!
What better way to get closer to your love than to call upon the divine powers for help?  It's not just the sweet and dry taste of the cocktail that is so romantic, but the soft pink colours (if done properly!) are more than enough to set a light, yet still heavily intimate tone to your Valentine's Day date!
What's Valentine's Day without a little chocolate? Forgo the chocolate box for your sweetie and whip up this decadent chocolate margarita! Infuse the chocolate milk with strawberry purée and a great tequila, and you've got yourself an adult strawberry-chocolate milkshake! It's a fun and care-free drink to add to your Valentine's Day menu!