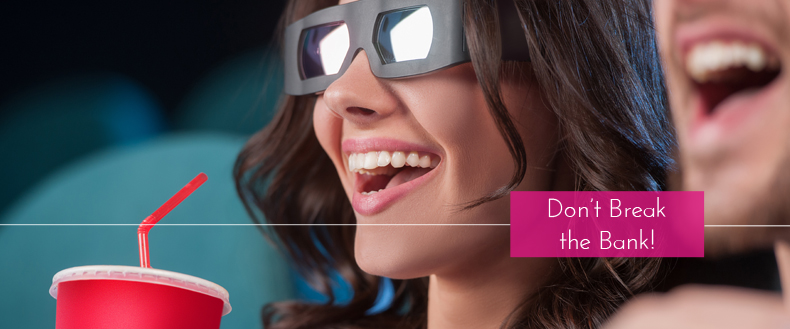 Taking out that special someone is a necessary step in the dating game, but when your bank account is short on funds, spending a ton of cash on going out isn't always possible. The goal is to find awesome stuff to do together that doesn't kill your wallet, and it's a lot easier to achieve than you think! Check out these super fun AND cheap date ideas for some inspiration.
1. Hit the Park
Grab a bottle of wine, a blanket and your iPod, then visit the park with your sweetie! Awesome during the day and beautiful at night, chilling in the park can be a ton of fun and really romantic. Step your game up even further by bringing a delicious homemade picnic for the two of you to nibble on during your stay.
2. Movie Night
All theatres offer the budget conscious "cheap movie night" and we're so pumped that they do! Discount tickets leave more money left over for a bag of popcorn to share, plus you get to see a cool new movie for next to nothing.
3. Dinner at Yours
Time to show off those cooking skills once and for all! Invite your date over for a delicious dinner and some great conversation and she's sure to have a fantastic time. Find out her fave meal and whip it up before she comes over – you'll be a hero for the entirety of the evening.
4. Museums
A lot of times you can visit amazing art galleries and museums on their discount days and get a GREAT deal on tickets. Figure out what would be most fun according to what you guys are interested in and then check to see what day the discount applies. Culture + Cheap Date = Win.
5. Flea Market
Grab a couple of coffees and hit the flea market for a cute day of thrifting. Markets are sweet for those who don't want to spend a lot of money because there are so many bargains. No one says you have to spend cash while you're at the flea market, but if you see something you like (or your date does) chances are it won't run you more than a few bucks!