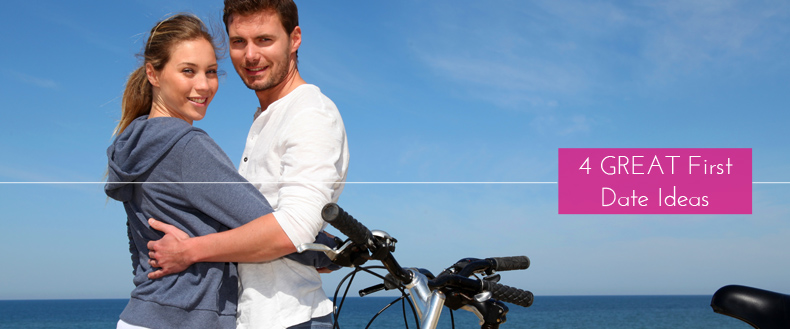 Well looky here! We're guessing you have a first date coming up in your not-so-distant future. Lucky for you, we've rounded up four of the best first date ideas ever (yes, EVER) to help you out in your journey to love. Read on and get ready to blow your date's mind with your insane creativity! Nobody ever has to know that you came to Quest for help!
1. Take a Bicycle Tour of Your City
This one might sound corny, but trust us – you'll both love it. What's more romantic than cruising around your own town as tourists on adorable bicycles? Okay, so we're not totally sure that the bicycles themselves will be adorable… but you will be! Take time to really enjoy where you live and discover new places together. Plus, you'll be getting in a little workout which never hurts either.
2. Bowling – Glow in the Dark or Otherwise
Bowling brings back childhood memories faster than just about anything else for the Quest team, and chances are your date will love it too! Go for a double date to up the competition or just go the two of you for some one-on-one fun. A little competitiveness is actually healthy in relationships and will help you get to know each other a lot better than a standard dinner date with canned questions and responses will.

3. Hit Up the Aquarium
With the number of movies containing super romantic aquarium scenes, it's a wonder more people don't think "aquarium!" when they think of great first date. Take your date to the local aquarium and check out the sea life. You'll both feel like kids again discovering new creatures and the lighting makes it pretty easy to sneak a kiss when you're ready, too!
4. Try a Totally New Cuisine
If either of you have sensitive stomachs, this option is probably not the best idea. However, if you're into trying new and exciting things – #4 might just be your ticket to an incredible first date. Explore a new restaurant or totally different cuisine than you're used to. It will be like taking a mini vacation together. You'll have a blast getting to know each other plus you'll be able to scratch something off your bucket list.
What's your idea of a best first date? Let us know in the comments below!