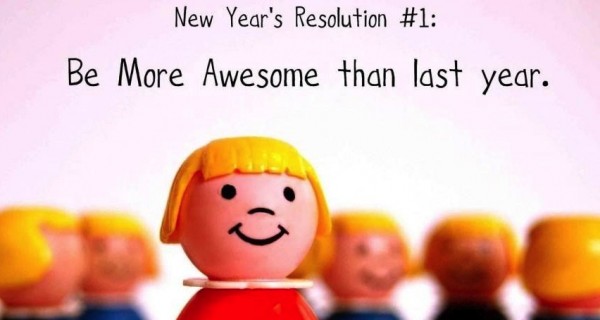 Getting it together
Happy New Year! We hear it a lot but there's so much pressure involved in the new year. Resolutions, taking down the decorations, getting out of debt all the things we want to do as quickly as possible. Making resolutions stick is really hard. Keep them reasonable and achievable. No more than 5 and make it something that will really improve your life. When searching for singles online see what other people are making for resolutions this year, I always find it interesting to hear what other people want to accomplish. Sometimes it gives me ideas for my own set of resolutions. In general the most popular resolutions are;
Get fit or be healthier. Let's face it almost all of us need some improvement in the health area. Being busy people can really take a toll on our level of commitment to our own body. Let's face it; our body is the most important thing we own. It's daunting to think of a whole new lifestyle so I suggest go for small and easily accomplished goals. Try adding a healthy smoothie to your morning regime. Just that one good healthy meal a day will improve your health a lot. I use things like coconut water, spirulina, organic apple, cucumber, kale, hemp hearts, ground flax seed, blueberries, raw beets, etc. The options are endless and I feel great after I have my morning smoothie. Maybe you can consider adding a fresh, homemade lunch of fresh veggies, homemade hummus, grated salad with nuts and quinoa, about 2 or 3 months down the line. But focus on one change for at least 6 weeks. Same with exercise. Try one new thing every day. A brisk walk or a yoga class online, maybe a class at the gym but aim to go 2-3 times a week. Keep it low stress and fun!
Get finances in order. Phew yeah we all need that too. I am no expert in this regard and I seriously have to work on this myself. But the best and most easily attainable way to do this is make a budget and stick to it. Make sure to pay yourself an allowance for just having fun because face it, if you don't then you will get miserable and then scrap the whole plan!
Stop drinking or reduce the amount we drink. We are social beings, that is for sure and alcohol is a social lubricant. It's fun to go on QuestChat at the end of the day with a glass of wine or mixed drink and have fun chatting and flirting. Again, keeping a set of limits that you have written out and sticking to it, keeping a "beer budget" and sticking to it, replacing your alcoholic drinks with fancy non-alcoholic ones 50% of the time or more, doing a physical activity before you settle in to your drinking activity are all really useful tips for cutting back.
Learning a new language, hobby or skill. This is my favourite! I am learning guitar, again, I played as a kid and now am determined to learn. I practice 20 minutes a day. I figure that is a schedule I can stick to. Fortunately we live in a world of easy to access information and you can learn Spanish or an instrument or karate all from an app or an online course!
Find love or make your relationship better. Finding and falling in love is the best thing in life! Whether you are looking or in it, it is awesome! Stay focused on who the person you like is, not who you want them to be. Keep an open and loving heart and enjoy the magic that is love.
I wish you the best of luck in your Quest for fulfillment. You deserve it!